THE RIGHT TO GAMBLE: AN ANALYSIS OF GAMBLING 'INDUSTRIES' IN MALAYSIA FROM CONSTITUTIONAL AND LEGAL PERSPECTIVES

Total Views: 795 |

Total Downloads: 402
Keywords:
Gambling activities, freedom of religion, legal and Islamic perspectives
Abstract
This article aims to analyse the gambling activities in Malaysia against the backdrop of human rights and federal constitution. It instigates for effective efforts to be carried out to, at least, minimise the gambling activities, if not to stop them totally. Based on limited sources in the existing literature, this article initially identifies the definitions of gambling and its status from the perspectives of Islam and other religions. It then examines whether gambling is consistent with the very notion of freedom of religion in this country which makes Islam as its religion. Furthermore, to get an accurate perspective of this 'industry' and the laws related to it, this article analyses some selected prominent gambling companies and the existing laws followed by some recommendations for solutions. In sum, this article affirms that gambling is neither a good habit nor does it represent the culture of Malaysian people. It in fact contributes towards social ills within the society and therefore needs to be strongly combated.
Downloads
Download data is not yet available.
References
Awang, M. 2011. Kebebasan Beragama dan Sekatan Perlembagaan. Accessed on 25th August, 2011 from: <http://www.malaysiakini.com/letters/173450>
Bergler, E. 2011. What Bible, Hinduism and Buddhism say about gambling? Accessed on 13 September, 2011 from: http://laksamanabukitbintang.blogspot.com/2011/03/what-bible-hinduism-and-buddhism-say.html#
Department of Statistic Malaysia. 2019. Accessed on 29 July 2019 from https://www.dosm.gov.my/v1/index.php?r=column/cthemeByCat&cat=155&bul_id=aWJZRkJ4UEdKcUZpT2tVT090Snpydz09&menu_id=L0pheU43NWJwRWVSZklWdzQ4TlhUUT09
Disa, M. N. 2011. Judi Menurut Undang-Undang : Isu dan Cabaran. Paper presented at Fiqh Muasirah Symposium, Organised by JAKIM, Masjid Putra, 10 May 2011.
El Sayed, S. S. and Royer, I. 2003. The Islamic Position on Gambling. Accessed on 7 September, 2011, from the Muslim Association of Hawaii http://www.iio.org/article.php/20030304095724844
Genting Group. 2011. Group Profile. Accessed on 13 September, 2011, from: <http://www.genting.com/groupprofile/index.htm>
Ibnuhasyim. 2019. Judi Menurut Kristian, Hindu, Buddha dan Islam. Accessed on 29 July 2019 from: <http://www.ibnuhasyim.com/2014/05/judi-menurut-kristian-hindu-buddha-islam.html>
Mohamad Idris, SM. 2011, August 22. Kos Perjudian Atasi hasil Pendapatan. Accessed on 24 August 2011, from: <http://www.malaysiakini.com/letters/173783>
Nasir Zakaria. 2011. Keadilandaily.com. Accessed on 29 July 2019 from <http://www.keadilandaily.com/bn-kaut-hasil-cukai-judi-rm9-3-bilion/>
Religion and Casinos. 2011. How the different religions of the world view gambling. Accessed on 13 September, 2011, from: <http://orthodoxrabbis.org/>
Sa`di Abu Jayb. 1993. Qamus al-Fiqhi Lughatan wa Istilahan. Dimasyq: Darul Fikr Al-Muasir.
Siddiqi, M. I. 1981. Why Islam Forbids Intoxicants and Gambling. Lahore, Pakistan: Kazi Publication.
TERAS Pengupayaan Melayu. 2011. Industri Judi di Malaysia: Menghalalkan yang Haram. Accessed on 25 August, 2011, from; <http://temanteras.wordpress.com/futhuhat/industri-judi-di-malaysia-menghalalkan-yang-haram/>
Utusan Online. 2011, August 8). Berjudi: 11 termasuk 3 wanita didenda RM3,000. Accessed on 25 August 2011, from: http://www.utusan.com.my/utusan/info.asp?y=2011&dt=0808&pub=Utusan_Malaysia&sec=Mahkamah&pg=ma_ 01.htm
Utusan Online. 2011, March 8. Parlimen: 4,118 kes bunuh diri dari 2001 hingga 2010. Accessed on 25 August, 2011, from:
World Factbook, Central Intelligent Agency. 2019. Accessed on 29 July 2019 from <https://www.cia.gov/library/publications/the-world-factbook/geos/my.html>
List of Cases
i. Lau Mooi Choo vs. PP [1996] 1 LNS 45.
ii. Lina Joy vs. Majlis Agama Islam Wilayah Persekutuan [2007] 4 MLJ 585
iii. Meor Atiqurrahman vs. Fatimah Sihi [2006] 4 CLJ 1.
iv. Pendakwa Raya vs. Thoo Yee Thye & Yang Lain [1991] 2 CLJ 200 (Rep) [1991] 3 CLJ 2830.
v. PP vs. Kit Chee Wan [1998] 5 CLJ 582
vi. Tan Kok Siong @ Tan Koh Heng vs. PP [1994] 1 LNS 158.
List of Statutes
i. Betting Act 1953
ii. Common Gaming Houses Act 1953
iii. Lotteries Act 1952
iv. Racing (Totalisator Board) Act 1961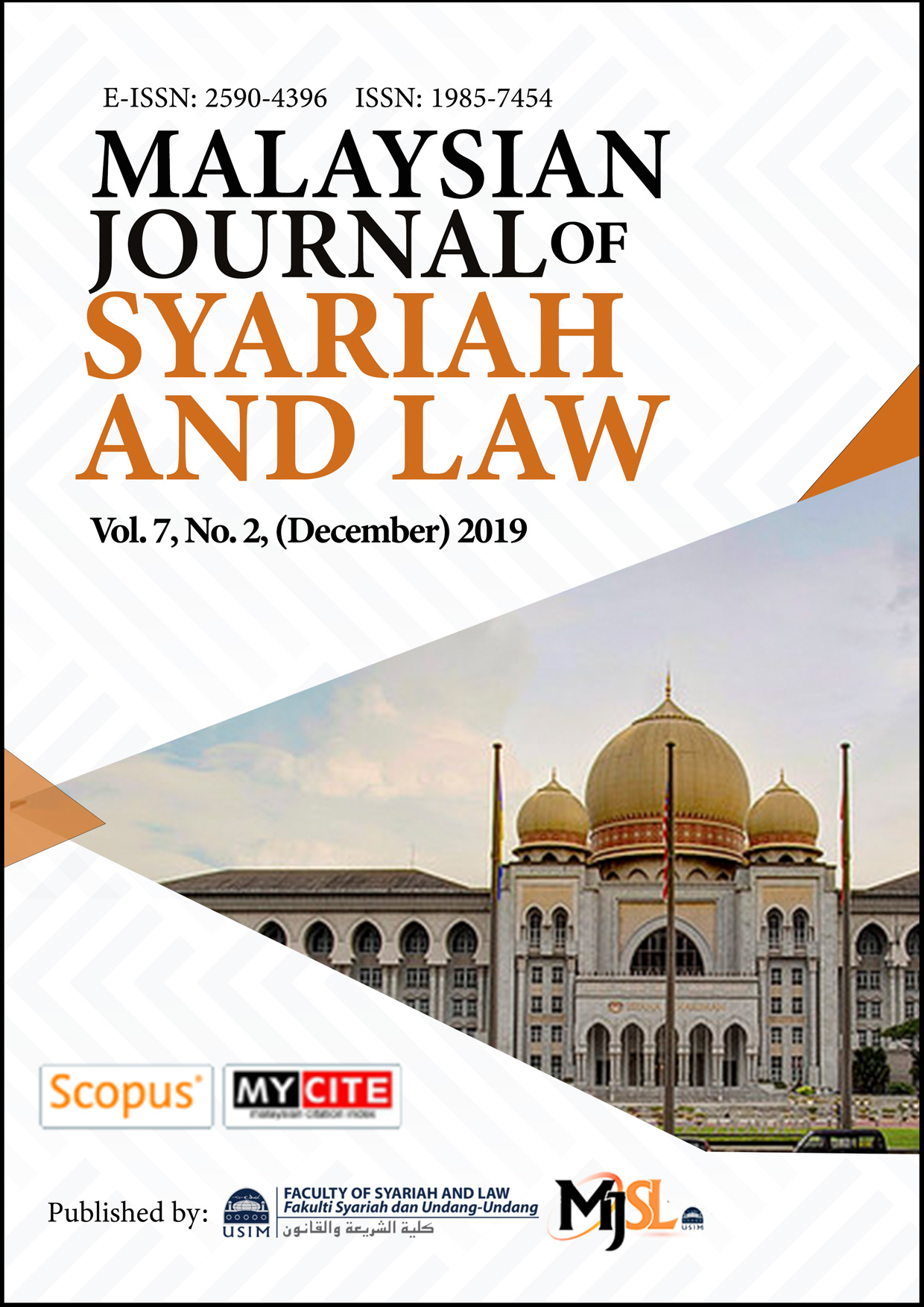 Downloads
CITATION
DOI: 10.33102/mjsl.v7i2.185
How to Cite
Ahmad, N. M., Mohd Salleh, M. M., & Ab. Halim, M. 'Afifi. (2019). THE RIGHT TO GAMBLE: AN ANALYSIS OF GAMBLING 'INDUSTRIES' IN MALAYSIA FROM CONSTITUTIONAL AND LEGAL PERSPECTIVES. Malaysian Journal of Syariah and Law, 7(2), 101-110. https://doi.org/10.33102/mjsl.v7i2.185