COMPARATIVE ANALYSIS OF INTERNATIONAL AND MALAYSIAN LEGAL FRAMEWORKS ON THE TREATMENT ON UNCONTROLLABLE CHILDREN: IS THERE ANY INCONSISTENCY?
Keywords:
delinquency, Child Act 2001, uncontrollable children, international legal framework
Abstract
The issue of uncontrollable children is no longer peculiar in the present days. Uncontrollable children can be found in almost every country across the globe. Although this issue is no longer novel, uncontrollable children are being defined and treated differently in different jurisdictions. On this note, numerous international legal instruments have been adopted to protect the welfare of all children which include the protection of the uncontrollable children. This article aims to comparatively analyse the available provisions extracted from international legal instruments that form part of the international legal framework on uncontrollable children with the Malaysian legal framework regarding uncontrollable children. This is done to determine the consistency between the former and the latter legal frameworks. The preliminary finding from this article is that the legal framework on uncontrollable children in the Child Act 2001 has substantially incorporated proper treatment which is required by the international legal framework and is consistent with the international legal framework. This can be seen in particular following the disintegration of the treatment on uncontrollable children and juvenile offenders as well as the prioritisation of family-based care subsequent to the 2016 amendment of the Child Act 2001. This development to carry out reform process is commendable in the aspect of children's rights and is consistent with the aspiration of the international legal framework in preserving the best interest of the child which includes uncontrollable children. In reaching this finding, content analysis was carried out pertaining to the provisions of the international and Malaysian legal frameworks on the treatment of uncontrollable children which suggests that the Malaysian government has been taking some significant efforts to incorporate the international standards within its domestic law.
Downloads
Download data is not yet available.
References
Abd. Rahman, H. (2008). Faktor Penyumbang Kepada Masalah Keluarga Tunggal Dan Perceraian: Kajian Kes di Johor Darul Takzim. Penerbit UTM.
Akers, J. F., Jones, R. M., & Coyl., D. D. (1998). Adolescent Friendship Pairs: Similarities in Identity Status Development, Behaviors, Attitudes, and Intentions. Journal of Adolescent Research, 13(2), 178–201.
Akram, M. (2007). A Study Of Some Recent Developments In The Rising Rate Of Delinquent Behaviour In Malaysia. Malayan Law Journal, 7, xxxvii.
Azizan, N. I., Ismail, N., Bakar, S. A., Dimon, Z., & Surtahman, A. (2015). Permasalahan Sosial Dalam Kalangan Remaja di Selangor: Satu Tinjauan. Seminar Antarabangsa Akidah, Dakwah Dan Syariah 2015. https://docplayer.net/36318613-Permasalahan-sosial-dalam-kalangan-remaja-di-selangor-satu-tinjauan.html
Bakar, A. A. A., & Hamzah, M. I. (2019). Faktor Keterlibatan Remaja Dengan Masalah Sosial (Factors Influencing Teens with Social Problems). Jurnal Hadhari: An International Journal, 11(1), 1–17.
Bartollas, C. (2003). Juvenile Delinquency (6th ed.). Allyn and Bacon.
Bennabi, M., & Al-Masawī, M. Ṭāhir. (1998). On the Origins of Human Society. Open Press.
Berndt, T. J. (1979). Developmental Changes in Conformity to Peers and Parents. Developmental Psychology, 15(608–616).
Cantwell, N. (n.d.). Nothing More Than Justice. Innocenti Digest 3 Juvenile Justice. https://www.unicef-irc.org/publications/pdf/digest3e.pdf
Carroll, A., Houghton, S., Durkin, K., & Hattie., J. A. (2009). Adolescent Reputations and Risk: Developmental Trajectories to Delinquency. Springer Science & Business Media.
Champion, D. J. (2001). The Juvenile Justice System: Delinquency, Processing, and the Law (5th ed.). Prentice Hall.
Child Rights International Network. (2009). Age Discrimination: Global Report on Status Offences. www.crin.org/en/ library/publications/age-discrimination-globalreport-status-offences-2nd-edition
Child Rights International Network. (2016). Discrimination and Disenfranchisement: A Global Report on Status Offences (Third Edition). https://archive.crin.org/sites/default/files/crin_status_offences_global_report_0.pdf
Committee on the Rights of the Child. (2007). Consideration of Reports Submitted by States Parties under Article 44 of the Convention, Concluding Observations: Malaysia (CRC/C/MYS/CO/1).
De Figueiredo, C., Sequeira, R., & Dias, F. V. (2012). Families: Influences in Children's Development and Behaviour, from Parents and Teachers' Point of View. Online Submission, 2(12), 693–705.
Department of Social Welfare Malaysia. (n.d.). Statistics Report. http://www.jkm.gov.my/jkm/index.php?r=portal/full2&id=U0dpTUVpRXlyYUlFVFFLUmVnUVJUdz09&menu_id=R3FNa05sRjVTWUc5dy80VEUxU2VNQT09
Department of Social Welfare Malaysia. (2020). Statistik Aduan Melalui Talian Kasih Sepanjang Tempoh Perintah Kawalan Pergerakan (18 March - 13 August 2020). https://www.kpwkm.gov.my/kpwkm/uploads/files/Dokumen/LAPORAN TALIAN KASIH/RINGKASAN LAPORAN HARIAN (TEMPOH PKP) 18 Mac - 13 Ogos 2020.pdf
Dusuki, F. N. (2006). Implementation of Article 12 in Juvenile Justice System in Malaysia. Day of General Discussion in Geneva on the Theme "Speak, Participate and Decide–The Child's Right to Be Heard," 17.
Fottrell, D. (2001). One step forward or two steps sideways? assessing the first decade of the United Nations Convention on the Rights of the Child. In D. Fottrell (Ed.), Revisiting Children's Rights 10 Years of the UN Convention on the Rights of the Child (pp. 1–15). Kluwer Law International.
Georgas, J. E., Berry, J. W., Van de Vijver, F. J., Çiğdem Ed, K., & Poortinga, Y. H. (2006). Families Across Cultures: A 30-nation Psychological Study. Cambridge University Press.
Glenn Mower Jr., A. (1997). The Convention On The Rights Of The Child: International Law Support for Children. Greenwood Press.
Holman, A., & Kellas, J. K. (2018). "Say Something Instead Of Nothing": Adolescents' Perceptions of Memorable Conversations About Sex-Related Topics with Their Parents. Communication Monographs, 85(3), 357–379.
Isaksson, E., Ståhl, C., & Bertilsson., E. (2017). Children's Uncontrollable Behaviour: A Qualitative Study of How Social Workers in Heidedal, South Africa Works with the Issue [Jönköping University]. http://urn.kb.se/resolve?urn=urn:nbn:se:hj:diva-3767
Loke, A. Y., & Mak, Y. (2013). Family Process and Peer Influences on Substance Use by Adolescents. International Journal of Environmental Research and Public Health, 10, 3868–3885.
Madon, Z., & Ahmad, M. S. (2004). Panduan Mengurus Remaja Moden. PTS Profesional Publishing Sdn. Bhd.
Michon, K. (n.d.). Juvenile Law: Status Offenses. https://www.nolo.com/legal-encyclopedia/juvenile-law-status-offenses-32227.html
Mohd Ali, N., Hasan, Z., Mohd Subri, I., Baharuddin, A. S., Roslan, S. R. A., & Abd Rahman Shah, H. (2019). Penentuan Agama Kanak-Kanak Apabila Salah Seorang Ibu Bapa Memeluk Islam Menurut Perspektif Undang-Undang Dan Syariah: Kajian Kes Indira Gandhi a/p Mutho. Malaysian Journal of Syariah and Law, 7(2), 27–39.
Muda, T. E. A. T., Hamid, N. B. A., Rashid, A. B. M., Bakar, N. H. B., & Azmi, N. binti. (2015). Kesalahan Akhlak Dan Perkaitannya Dengan Faktor Kematangan, Kerohanian Dan Kesedaran Kendiri Individu. World Academic and Research Congress 2015, 69–80. http://rmc.kuis.edu.my/world-ar/wp-content/uploads/2015/11/WAR-08-KESALAHAN-AKHLAK-DAN-PERKAITANNYA-DENGAN-FAKTOR-KEMATANGAN-KEROHANIAN-DAN-KESEDARAN-KENDIRI-INDIVIDU.pdf
Nong, S. N. A. S., & Yusoff, J. Z. M. (2019). Rehabilitation of Children Beyond Control in Malaysia: Towards Deinstitutionalization. International Journal of Academic Research in Business and Social Sciences, 9(3), 449–459.
Pinheiro, P. S. (2006). World Report on Violence Against Children. https://digitallibrary.un.org/record/587334?ln=en
Schabas, W., & Sax, H. (2006). A Commentary on the United Nations Convention on the Rights of the Child, Article 37: Prohibition of Torture, Death Penalty, Life Imprisonment and Deprivation of Liberty. Martinus Nijhoff Publisher.
Seymour, J. (1992). An "Uncontrollable" Child: A Case Study in Children's and Parents' Rights. International Journal of Law, Policy and the Family, 6(1), 98–118.
Sharif, Z., & Roslan, N. M. (2011). Faktor-Faktor Yang Mempengaruhi Remaja Terlibat Dalam Masalah Sosial di Sekolah Tunas Bakti, Sungai Lereh, Melaka. Journal of Education Psychology & Counseling, 1(7), 115–140.
Sormunen, M. A. (2016). The Best Interests of the child-A Dialogue Between Theory and Practice. Council of Europe Publishing.
Theoharis, M. (n.d.). Incorrigibility - Juvenile Laws. https://www.criminaldefenselawyer.com/crime-penalties/juvenile/incorrigibility.htm
Thwala, S. K. (2013). The Role of Culture in Psychosocial Development of Orphans and Vulnerable Children. International Journal of Adolescence and Youth, 18(2), 105–121.
UN Office of the High Commissioner for Human Rights (OHCHR). (1997). Fact Sheet No. 10 (Rev. 1) March 1997, The Rights of the Child. https://www.refworld.org/docid/479477390.html
UNICEF. (2017). Diversion Not Detention: A Study on Diversion and Other Alternative Measures for Children in Conflict with the Law in East Asia and the Pacific.
Van Bueren, G. (2006). A Commentary on the United Nations Convention on the Rights of the Child, Article 40: Child Criminal Justice. Martinus Nijhoff Publishers.
Yahaya, A., Yahaya, N., & Bachok, J. (2010). Perkaitan Antara Hubungan Kekeluargaan, Pengaruh Rakan Sebaya dan Kecerdasan Emosi Dengan Tingkah Laku Delinkuen Pelajar Sekolah Bestari Di Daerah Pontian. Fakulti Pendidikan, Universiti Teknologi Malaysia. Universiti Teknologi Mara. http://eprints.utm.my/id/eprint/10118/1/JURNAL_MASTER.pdf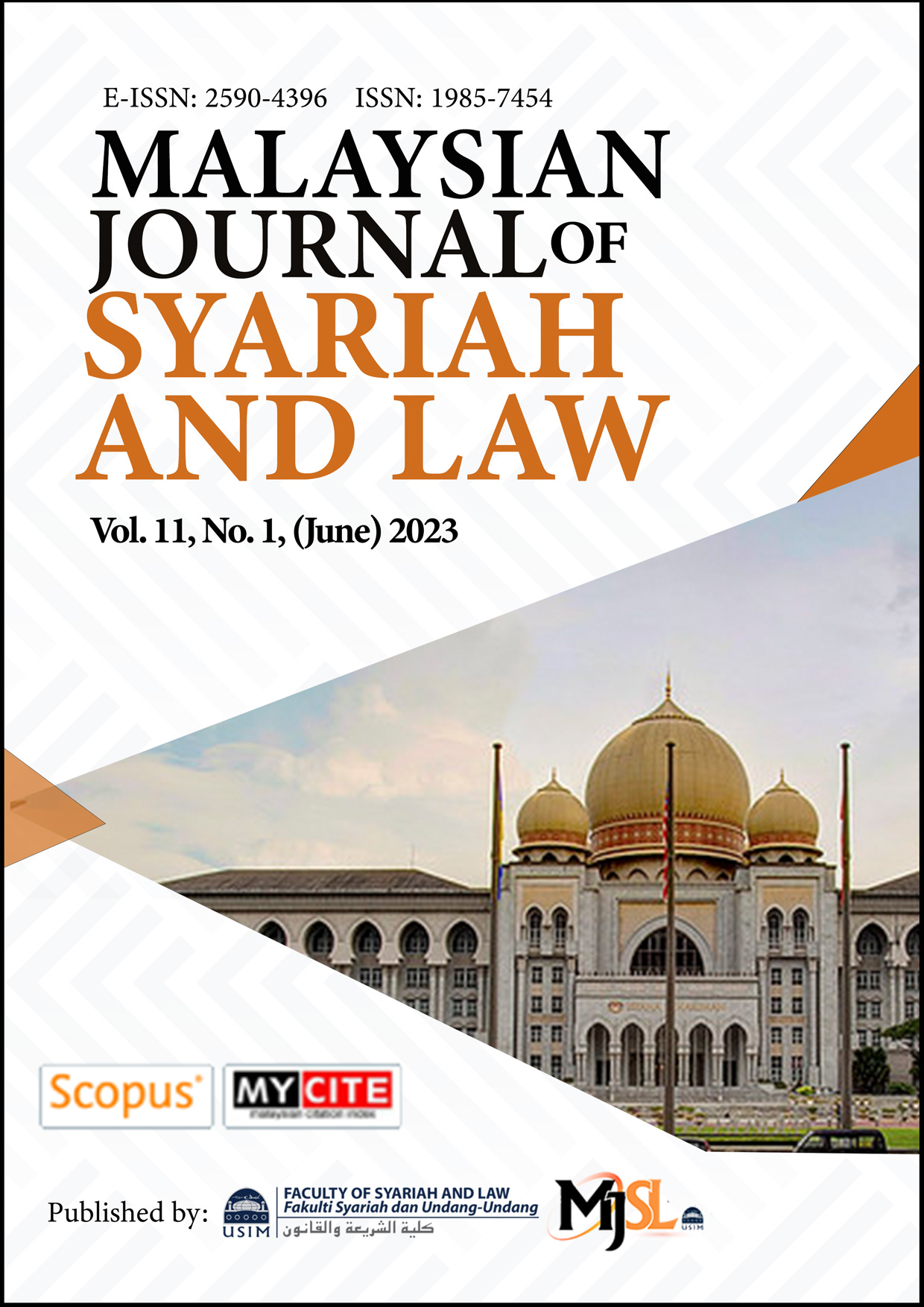 Downloads
How to Cite
Abdull Manaf, M. K. S. (2023). COMPARATIVE ANALYSIS OF INTERNATIONAL AND MALAYSIAN LEGAL FRAMEWORKS ON THE TREATMENT ON UNCONTROLLABLE CHILDREN: IS THERE ANY INCONSISTENCY?. Malaysian Journal of Syariah and Law, 11(1), 1–13. https://doi.org/10.33102/mjsl.vol11no1.346
License
Copyright (c) 2022 Mohamad Kamal Sodiqin Abdull Manaf
This work is licensed under a Creative Commons Attribution 4.0 International License.