THE CONSTITUTIONAL POSITION OF CONTINENTAL SHELF IN MALAYSIA
IN THE CASE OF THE MALAY STATES
Keywords:
Malay States' Rights, Sovereignty, Continental Shelf, Petroleum, Watanic Jurisprudence
Abstract
The Malay states remain sovereign from the pre-Federation of Malaya in 1957 until today. They acquired external sovereignty through international recognition via membership of Malaya in the United Nations. International law recognises Malaysia's continental shelf, a federation comprising a few coastal states under UNCLOS 1982. A local issue close to this subject is the Malay states' rights in the Federation of Malaysia over petroleum production within the continental shelf adjacent to their territorial waters. Hence, this paper examines a Malay state's rights over Malaysia's continental shelf. This study is a qualitative legal analysis using a case study design promoting the method of watanic jurisprudence. Therefore, the Federal Constitution, UNCLOS 1982, and various statutes are analysed to answer many related issues beforehand. This paper has found that the territorial waters of the Malay states cannot be limited to three nautical miles from the low tide line in pursuance of the Territorial Sea Act 2012 without strict compliance with Article 2 of the Federal Constitution. The legitimacy of the territorial limits of the Malay states' waters is essential as it determines their rights to the continental shelf and its petroleum production.
Downloads
Download data is not yet available.
References
Abdul Aziz Bari & Farid Sufian Shuaib (2009). Constitution of Malaysia; Text and commentary. (3rd. Edition). Prentice Hall.
Azalina, O. (2023). Kelantan dan Terengganu tak layak terima royalty minyak. Retrieved on 6 March 2023 from https://m.malaysiakini.com/news/656263.
Bernard H. O. (1996). The rule of law and the United Nations convention on the law of the sea. 7 EJIL, 353-371.
Braddell, R. (1931). The Legal Status of the Malay States. The Malaya Publishing House Limited.
Civil Law Act 1956 (Revised 1972) [Act 67].
Cobbold Commission Report; Perjanjian Malaysia 1963.
Constitution (Amendment) (No. 2) Act 1973 [Act A206].
Constitution (Amendment) (No. 2) Act 1984 [Act A585].
Constitution (Amendment) Act 2001 [A1095].
Constitutional Working Committee Report 1946.
Continental Shelf 1966 (Revised 1972) [Act 83].
Duff Development Co. v. The State of Kelantan [1924] AC 797.
Emergency (Necessary Powers) Ordinance No. 7 1969 [P.U. (A) 307A/1969].
Enakmen (Pindaan) Undang-undang Tubuh Selangor 1974 (En. No. 7/1974).
Exclusive Economic Zone Act 1984 [Act 311].
Federal Constitution of Malaya 1957.
Federal Constitution (published by the Commissioner of Law Revision, Malaysia 2020).
Federation Agreement of Malaya 1948 (Gazetted Notification No. 6, February 5, 1948, No. 1, Vol. 1).
Federation of Malaya Order in Council 1948 (Gazetted Notification No. 5, February 5, 1948, No. 1, Vol. 1)
Federation Agreement of Malaya 1957.
Federation of Malaya Independence Act, 1957 (British Legislation, Chapter 60, 5 & 6 ELIZ 2).
Indira Gandhi A/P. Mutho v. Director of Perak Islamic Religious Department & Ors and other appeals [2015] 7 MLJ 153.
J de Allen, AJ Stockwell & LR Wright (eds). (1981). A Collection of Treaties and Other Documents Affecting the States of Malaysia. 2.
Kuala Lumpur agreement between federal government with the state government of Selangor (28 January 1974).
Memorandum of Proposal by Their Royal Highnesses the Malay Rulers Malay (12 September 1956).
Mighell v. the Sultan of Johore [1894] 1 Q.B 149 (C.A).
National Land Code 1965 (Revised 2020) [Act 828].
Perjanjian & Dokumen Lama Malaysia (Old Treaties & Documents of Malaysia) (2017). Institut Terjemahan & Bahasa Malaysia.
Perlembagaan Persekutuan (Pesuruhjaya Penyemak Undang-Undang Malaysia 2010).
Petroleum Mining Act 1966 [Act 95].
Petroleum Development Act 1974 [Act 144].
Report of The Federation of Malaya Constitutional Committee 1957. Her Majesty's Stationary Office.
Simon C, S. (1995). British relations with the Malay rulers from decentralisation to Malayan independence 1930-1957. Oxford University Press.
Territorial Sea Act 2012 [Act 750].
United Nations Convention at Montego Bay on 10 December 1982.
Wahid, A. S. (2023). Kelantan tuntut bayaran royalti minyak. Sinar Harian. Retrieved on 6 March 2023 from https://sinarharian.com.my/article/248372/edisi/kelantan-tuntut-bayaran-royalti-minyak.
Wan Hussain, W. A. F., Che Ngah, A., Omar Din, M. A., & Md Lateh, H. (2017). Raja-raja dalam penginstitusian perlembagaan persekutuan Tanah Melayu 1957: satu kajian sejarah perundangan. Journal of Nusantara Studies (JONUS) 2 (1), 27-39. https://doi.org/10.24200/jonus.vol2iss1pp27-39.
Wan Husain, W. A. F. (2018a). Kedaulatan Raja-Raja Melayu: Jurisprudens, governan & prinsip perlembagaan persekutuan. Abad Sinergi Sdn. Bhd.
Wan Husain. W. A. F. (2018b). Jurisprudens Watan Perlembagaan Persekutuan: Teks, Konteks & Isu-Isu Ketatanegaraan. Abad Sinergi Sdn. Bhd.
Wan Husain, W. A. F. (2021a). Watanic jurisprudence: Articulating the legitimate elements of the basic structure of the federal constitution. IIUM Law Journal, 29(1), 1-28.
Wan Husain, W. A. F. (2021b). Yang di-Pertuan Agong: Kedaulatan, prerogatif dan amalan. Dewan Bahasa dan Pustaka.
Wan Husain, W. A. F. (2022). Kedaulatan Malaysia governan utama negara. Abad Sinergi Sdn. Bhd. dengan kerjasama Penerbit UMP.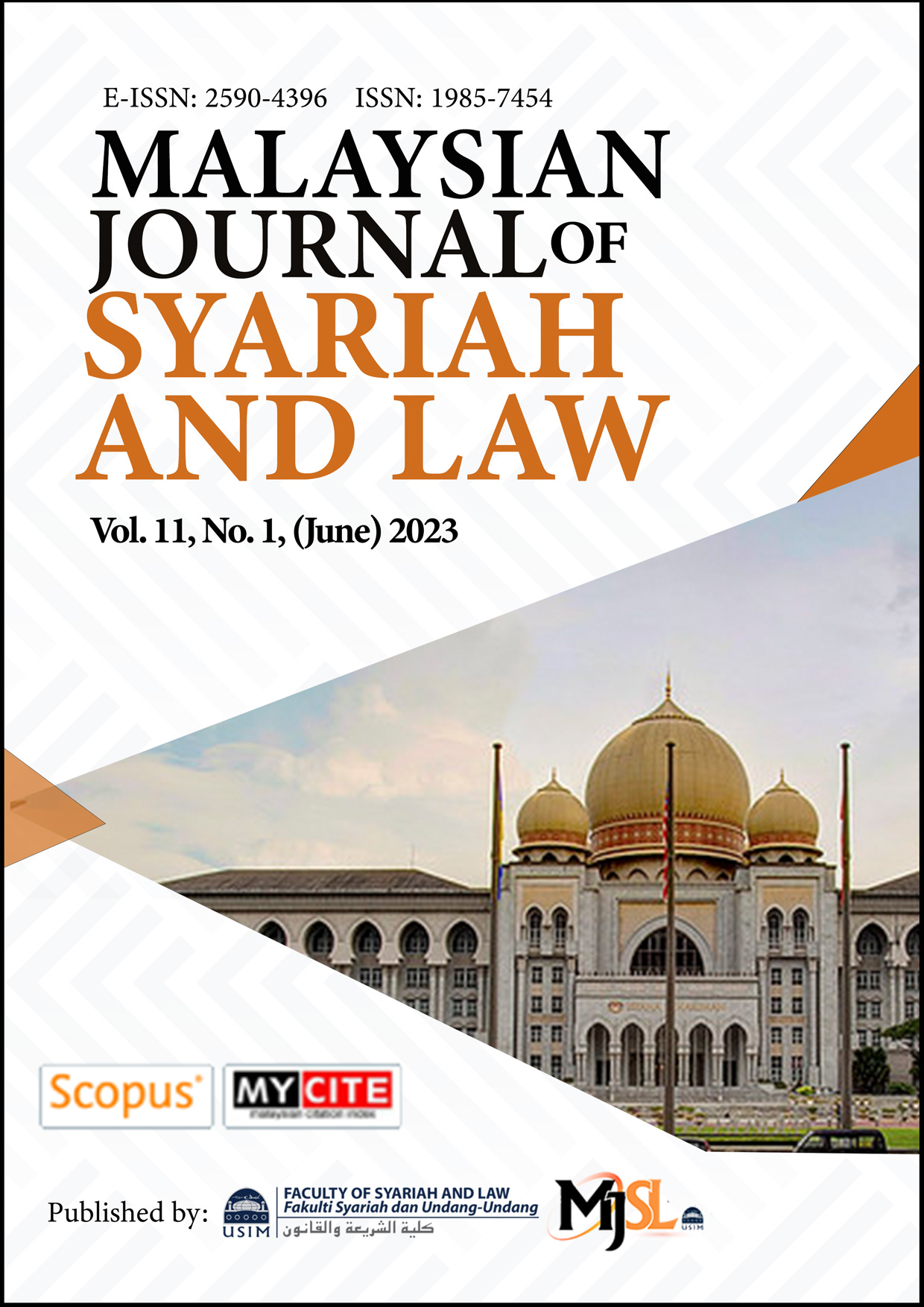 Downloads
How to Cite
Wan Husain, W. A. F. (2023). THE CONSTITUTIONAL POSITION OF CONTINENTAL SHELF IN MALAYSIA: IN THE CASE OF THE MALAY STATES. Malaysian Journal of Syariah and Law, 11(1), 142–153. https://doi.org/10.33102/mjsl.vol11no1.432
License
Copyright (c) 2023 Wan Ahmad Fauzi Wan Husain
This work is licensed under a Creative Commons Attribution 4.0 International License.